Jinan Diesel Engine Co., Ltd. is China National Petroleum Corporation holding in the high-power internal combustion engine manufacturers listed enterprises. Products "JACKIE Chai card," the internal combustion engine is used to create the only large-scale oil exploration momentum.

JACKIE Chai history can be traced back to 1920, was known as the "first plant north of the Yangtze River." 1994, Jeju Chai Feeder China National Petroleum Corporation. 1996 as a pilot enterprises in the oil, Jinan Diesel Engine Co., Ltd. established and listed on the Shenzhen Stock Exchange, referred to as "oil JACKIE Chai", stock code 000617.2002 onwards, oil Franciscans have bought firewood Steel Pipe Factory in Xianyang 45% and the operating assets of Baoji Steel Pipe Plant 38% of the shares in 2003 again currency funds to purchase the original North China Petroleum Administration Bureau first plant owned North China Power Generator Factory, listing economic restructuring for firewood Hebei Branch, the current corporate structure formation .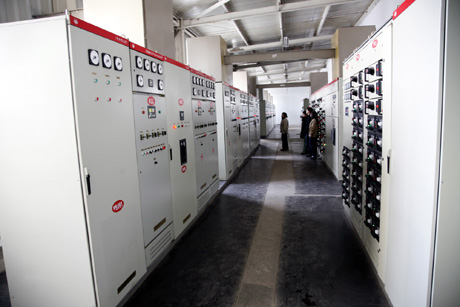 Chai domestic oil Ji-road use in high-speed and high-power diesel engine in the main gas engine manufacturers, leading products JACKIE Chai licensing engine, widely used in oil drilling, mining locomotive, engineering machinery, fishing vessels (including the various construction vessel carriers, passenger ships, and the fisheries vessels, fishing boats and warships main auxiliary power) and power generation equipment, military, and other countries is crucial areas and the focus of selected products occasions. Scope of coverage of the oilfield and the 30 provinces, autonomous regions, and exported to Japan, Singapore, Indonesia, Thailand, and more than 30 countries.

JACKIE firewood are mainly oil production led three models: land use 2000,3000 and 600 series, 200-1740 kW power diesel engines and auxiliary unit; Marine inline 4-cylinder, 6-cylinder, 8-cylinder, V-8-cylinder, 12-cylinder, power 180 to 1100kW diesel engines and auxiliary units; gas (including natural gas, coal bed methane, coking coal gas, methane, and other gases) 30 to 1500 kW gas engine and ancillary units. Products have passed ISO9001 Quality System Certification, and the state obtained Guojiajishujianduju Shangjianju issued by the national quality system certification. 123 varieties of existing products, the Model 270, its technical level, and the total production in the domestic market share in the high-power engine manufacturing in the forefront.

The company has successively won at the national level measurement units, equipment management units outstanding, the customer satisfaction enterprises, outstanding service outlets such as the honorary title of Jeju Chai licensing products mark the first famous trademarks as Shandong, China Z12V190B diesel engine is a high-speed Diesel power family of the only national quality gold products, was named Shandong brand-name products, the customer satisfaction products and the state energy-saving products. Z8V190 diesel and 300 to 700 kW diesel generators for provincial (ministerial) quality products. G12V190ZL new R & D and manufacturing of diesel engines in June 2003 was named Shandong brand names.
November 18, 2006, as the oil and Jinan City in Shandong Province and the focus of the project, occupies a total area of 57.57 hectares (852.27 acres) relief official opening of a new plant firewood production.

JACKIE Chai new factory has on the international advanced level in the engine R & D and testing facilities, advanced
international body, crankshaft, cylinder head assembly and processing, such as production lines, and improving the quality of physical and chemical detection equipment, a research and development, marketing, manufacturing, supply chain four business advantage , various types of internal combustion engine with an annual capacity of up to 4,000 more.
JACKIE chaiji new R & D and manufacturing integration, diesel and gas-both as land use, marine, power generation, engineering support, and other non-road multi-use high-power internal combustion engine in the modern enterprise products. New Economy Chai China and Africa will focus on building roads in high-power internal combustion engine with the first brand, established in the country-road use in high-power internal combustion engine industry leading position as an international oil drilling equipment manufacturing enterprises, as well as mainstream dynamic international profile large dynamic manufacturing enterprises.