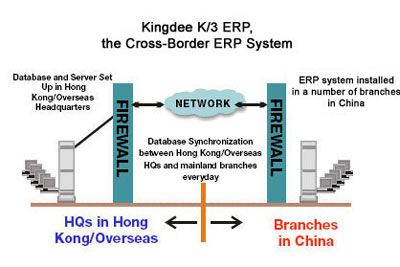 K/3 ERP solution is a cross-border, multilingual ERP system, enhanced by business performance management (BPM) core and industry-specific feature and best practices based on 12 years Kingdee experience. With its development firmly rooted in China, K/3 transcends these issues, particularly in terms of accounting practices, taxation and legal systems. This comprehensive software solution comprises six software suites including Finance, Supply Chain Management, Manufacturing, Human Resources, CRM, BOS and All of the modules can be configured and implemented rapidly for rapid results. They include pre-set reports that have been fully endorsed and approved by the PRC government, and fully support international standards and multilingual user interfaces including English, simplified and traditional Chinese. The software's support for multilingual conversion, enables people in different geographies to communicate effectively, and underscores the product's global fit. The system is intuitively designed so end users can be trained quickly and cost-effectively.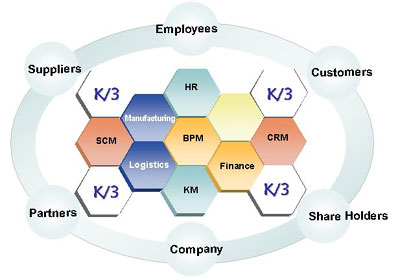 K/3 ERP provides you with strategic insight, ability to differentiate, increased productivity, and the flexibility you need to succeed, enables you to reduce total cost, achieve a faster return on investment, and benefit from a more flexible IT infrastructure that helps drive innovation, generate value and lead at the speed of growth.
It combines the most complete, scalable, and effective software for enterprise resource planning (ERP) with Kingdee BOS (Business Operation System) platform, a flexible and open technology platform that can leverage and integrate Kingdee and non-Kingdee systems, and be easy to customize for organizations of any size, in any industry and any level of growth. Additionally, K/3 ERP fits for your size and budget ¨Cwhile offering unlimited scalability for tomorrow.