Introduction

In addition to the fundamental accounting functions intended for the financial accounting and management personnel of an enterprise, Kingdee K/3 Finance implements overall finance management and integrates finance centralization, overall budgeting, capital management and finance reports at the group level. It helps change the enterprise finance management from accounting type to decision-making type, and finally helps in achieving the optimum value for the enterprise. All modules of the system can be used separately, or integrated with other systems seamlessly to form the enterprise application solutions that integrate finance and business.

Structure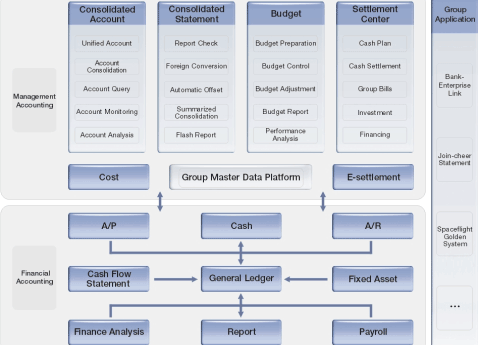 Functions



Financial Accounting

The general ledger management enables the accountants with higher quality and efficiency. Based on voucher handling, it provides accounting functions such as withdrawal allocation, auto account transfer, EoP exchange adjustment, and carrying over of profit and loss. It also provides finance management functions, such as account budgeting, account interest calculation, accounting, and cash flow report. It enables associated query from general ledgers to vouchers, and enables multi-dimensional subsidiary accounting.

The report management enables quick formulation of various reports. It enables report formulation, query, check, print, related query and analysis, as well as flexible and many access formulas and powerful related query of account.

The cash management enables the cashiers to overall manage the cash and bank account. It provides bank notes, cash journal, bank deposit journal, bank deposit reconciliation statement and reconciliation. It provides multiple capital analysis reports based on above functions.

The fixed assets management helps the managers strengthen the assets management and improve assets utilization. With fixed assets cards as the core, it provides comprehensive assets management over assets adding, changing, clearing, and depreciating, and various assets analysis reports. The module pre-defines multiple depreciation methods and flexible depreciation customization. The vouchers can be generated automatically.

The transaction management consists of A/R and A/P management. It helps the manager strengthen A/R and A/P management. It provides the management over the whole business process, such as contract management, and invoice, collection, payment, notes, settlement, reconciliation, doubtful debt handling. The vouchers can be generated automatically. The due debt can be alarmed. Automatic reconciliation is performed between the general ledger and business partners.

Management Accounting

The budget management enables the accountants to overall and effectively manage the budget of a single enterprise or a group enterprise. It also provides the functions like budget preparation, adjustment, execution, control, analysis and appraisal.

The capital management assists the accountant in overall management and allocation of enterprise capital. It offers an overall, uniform cash management system for the group enterprise. Focusing on business and taking finance as its core, this module uniformly manages cash plan and control, cash settlement, financing, deposit, interest calculation, cash report and cash analysis.

The consolidated report management enables the accountants to quickly collect management information from subordinate companies of a group. It offers a uniform group report platform, based on which to establish a standard finance report system. In addition, this module provides financial analysis data.

The cost management enables the accountants to overall and reasonably manage the cost. Guided by the idea of cost object, it can integrate with other modules. The actual cost is processed through cost collection, allocation, and accounting, based on which, a system of cost forecast, control, analysis and appraisal is established.