SunAccount
Recognised as the most functional financial management systems available today, SunAccount consists of a fully integrated ledger system, a fixed asset register, an allocations module and a multi-currency and time recording module.
Ledger Accounting
As with all SunSystems modules SunAccount Ledger Accounting boasts a range of unique features designed to give a head start to companies seeking optimum efficiency and control.
Combined Ledger
The systems revolutionary combined ledger design ensures that all accounts are always up to date and in balance. Common sense tells us that one of the most crucial elements in interpreting information once you've got it is how old it is. It's no good basing complex business decisions on information that is out of date yet surprisingly many accounting systems can only guarantee that all data is current after an end of day batch update between various modules.
Reports or inquiries on SunAccount data will always reflect the true current position ensuring timely reporting and a sound basis for decision making. Furthermore, the single ledger structure actually reduces the number of transactions required saving time and reducing the chances of error.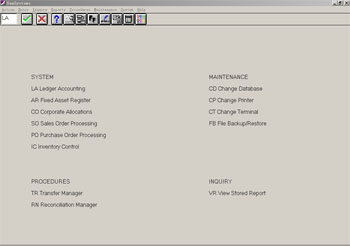 Open Periods
SunAccount can be configured to provide access for both posting and reporting to whatever range of periods may be appropriate for your organisation. Not only does this deliver the benefit of simplifying month and year end processing by reducing the number of adjustments that may have to be made, but day to day processes such as the handling of prepayments and accruals are greatly simplified saving valuable time.
Cleardown and Archiving
When a period or year is closed SunAccount offers the option to write completed transactions to an on-line archive file rather than simply either leaving them on the ledger or worse still merely deleting them. This archive file is then available at any time should reports or inquiries on that information be needed. With all transactions available on-line, SunAccount reporting capabilities are incomparably comprehensive. All reports and inquiries allow selection of which of this information should be searched making processing them as fast and simple as possible.
Budgeting
With a total of ten budget ledgers each of which may be defined to precisely reflect your requirements, SunAccount budgetary control facilities are second to none. Each budget file can run over as many years as needed and features almost exactly the same functionality as the actual ledger. This provision of unprecedented levels of flexibility in the input, inquiry and reporting of budgetary information confirms SunAccount as the preferred choice for budget holders needing comprehensive analysis capabilities.
SunBusiness
SunBusiness covers the complete spectrum of applications required to increase the productivity of your order administration, distribution and inventory operations. The suite consists of sales and purchase order processing, including invoicing and a purchase invoice register, together with an inventory control system.
The high level of integration between modules within the SunBusiness range enable us to deliver an extensive set of features that are available from all of the constituent modules over and above the functionality specific to each area. Taken together they provide the potential to lower internal costs and improve customer service whilst delivering better sales management information to enable your organisation to react to changing market conditions.
Analysis
As with all SunSystems solutions SunBusiness offers unparalleled analysis capabilities. Information is only useful if it reflects your business and each of the modules in this suite allows you to create and apply a virtually limitless selection of user defined codes to any customer / supplier, product or transaction. This ability to customise processes and information to closely match you operation has the dual benefit of making the system easier to use whilst laying the foundations for powerful and meaningful reporting.
Report Writers
Each module in SunBusiness has a variety of report generators from standard listings to comprehensive user defined reports enabling you to use any of the available analysis parameters. Each of these easy to use reporting mechanisms opens up the database of information already created in SunBusiness. By providing timely access to crucial operational data organisations gain competitive edge by being better able to understand and forecast demand on products and services.
Transaction Tracking
One of the biggest barriers to improving efficiency and productivity can be the problem of providing immediate on-line access to information when all the relevant data may not be to hand. SunBusiness has solved this problem through the implementation of a unique transaction tracking inquiry function. Users may begin an inquiry by referencing either the product, the customer or supplier, or the order itself and then look at various aspects of it by simple point and click navigation. This makes accessing information faster leaving staff free to focus on their current workload rather than spending time managing orders that are already on the system.
User defined Documents
The SunSystems Document Definition function delivers complete freedom over the layout and content of any documents produced by SunBusiness. Each document holds only the information required laid out clearly and efficiently in the way that you want. Not only does this make life easier for both customer and suppliers but also for the user as they need use only one programme to specify all documentation from quotations to dispatch notes. The functionality of this programme is rich enough to meet all the requirements of global tax reporting. As well as managing the complexities of European tax legislation, SunSystems is flexible enough to deliver solutions in regions with diverse regulations from Latin America to Russia.
Multi-currency
In keeping with the original design concepts underpinning SunSystems, each of the SunBusiness modules supports full multi-currency processing. The production of correspondence not only in the language of your supplier or customer but in their own currency as well will reduce communication problems whilst placing no extra overhead on your staff. As with SunAccount currency translation is automatically performed against pre-defned tables saving the trouble of identifying and keying the relevant rate.
User Defined Values
Many items on an order or invoice, such as ad hoc charges and deductions, taxation or freight costs, cannot simply be selected from a list of items as they are likely to be dependent on the contents of the order. SunBusiness streamlines the input of such non-standard items by using other components of the order such as the price, quantity, discount, as part of a calculation process. With up to eight such calculations for each line, the number of keystrokes required for a given transaction can be greatly reduced. It is even possible to define calculations to be dependent on individual inventory items providing the flexibility to pre-define and therefore largely automate the entry of virtually any order regardless of its content.
Ledger Interface (Transfer of Accounting Information)
The generation of orders, invoices and credit notes has important financial implications. To ensure an accurate picture of a company position, the transfer of information from order processing and inventory systems must be efficient and secure whilst retaining relevant analysis. The SunSystems Ledger Interface mechanism allows you to define precisely which information is passed to SunAccount for each transaction type as well as how those transactions are to be consolidated prior to import to prevent the ledgers from becoming too cluttered. Data to be passed to SunAccount may include conditional or pre-defined account codes as well as any of the myriad references or descriptions within SunBusiness.