One of the most challenging complexities of the international marketplace is the management of multi-currency transactions. Understanding the effects of this international dimension of your business on the bottom line is of paramount importance. Fully integrated with all SunSystems modules, the multi-currency system provides unprecedented control in currency handling.
Flexible conversion
Currency management involves more than merely specifying another amount and a rate. Rates themselves vary according to the date and even the type of account and different currencies may have different numbers of digits after the decimal point. SunSystems can handle all known currencies, values of up to fifteen digits and a variety of revaluation methods. Transactions are automatically converted on entry according to either a spot rate or by reference to tables which even allow for different rates for different classes of account.
Automatic processing
Any multi-currency module can only ever be as good as its conversion, translation and revaluation routines. SunSystems simplifies these processes and saves time by identifying gains or losses resulting from multi-currency cash allocations and posting them to specified accounts. Furthermore, revaluation to revised currency rates may be applied to all or part of a ledger and features a report only option to ensure that control of these values remains firmly with the user.
Financial reporting
SunSystems flexibility in being able to effectively and precisely manage transactions in an unlimited number of currencies in each account, requires comprehensive reporting to intelligently track and control your overall financial position. With a range of actual and reporting rates available for selection, SunSystems provides movement and balance analysis by currency as well as profit and loss and balance sheets, allowing trading and exposure reporting.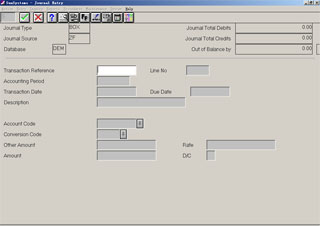 Recording Time and other values
The translational facilities available in this module lend themselves to more than currency handling. As a time conversion system it offers multiple rates, project costing and budget comparisons, with combined time and cost reporting and booking to save labour and inaccuracies. Furthermore this conversion module also allows companies to monitor and control financial values against any other type of quantity, from barrels of oil to packets of soap powder.
Multi-Currency
Flexible Entry
Average, Closing or Spot Rate
Conversion Rate Lookup
Conversion Rates up to Nine Decimals
Currency 0, 1, 2 or 3 Decimals
Powerful Reporting
Report in Base Currency or Other Amount
Gain, Loss or Exposure by Currency
Multi-Currency P&L and Balance Sheet
Consolidated Reports
Customer and Supplier Reporting
Aged Debtor Reports
Aged Creditor Reports
Debtor and Client Statements
Creditor Remittances
Comprehensive Processing
All Accounts Multi-Currency
Unlimited Number of Currencies Per Account
Settlement and Unrealised Gain and Loss
Selective Revaluation
Time Recording