Sales order processing is often the primary point of entry into your organisation for financial information and the accumulation of statistics. To remain competitive companies must make use of software capable of lowering administration costs by increasing sales productivity whilst generating and delivering better sales management information. The SunSystems Sales Order Processing solution is proven to be an efficient and effective vehicle to help streamline sales, distribution and order administration operations to enable organisations to focus on improving customer service.
Please note that this module requires the use of the SunBusiness Sales Invoicing system which is also available independently if full order processing functionality is not required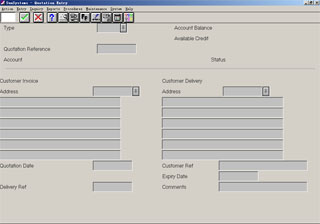 Custom Transaction Entry
The complexity of orders received by your business can vary enourmously demanding a transaction entry interface capable of not only managing your orders accurately but quickly as well. SunBusiness allows you to define the order input process very precisely using a diverse array of defaults and simple lookups to guarantee accuracy whilst simplifying and speeding up the whole operation. There is no limit to the number of completely different order types that can be defined in this way.
Choice of Items
The SunBusiness order entry function is richly featured to ensure maximum efficiency and flexibility. Stock and non-stock items can be added to the same order or invoice and alternatives are offered if parts are out of stock. More importantly for both your company efficiency and your integrated financial processes, SunBusiness provides real time stock, credit and price checking to deliver improved customer service.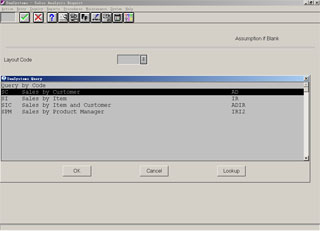 Quotations
Customer service levels also benefit from the SunBusiness quotations system. As an integrated part of the sales cycle quotations are designed, raised and produced from within the Sales Order Processing system and may be automatically converted to live orders at any time. As well as removing the need for re-keying, this improves response times of the order processing staff delivering direct benefit to your customers. A further benefit derives from more effective management reporting delivered through the timely analysis of those quotations the company failed to convert.
Sales Order Processing
Quotation/Order/Invoice Entry
User Defined Transaction Types with Presets
Account and Non-Account Customers, Stocked and Non-Stocked Products
Customer Credit Checking
Quotation, Acknowledgement, Picking, Despatch and Invoice Documents
Extensive Analysis
User Defined Analysis Headings
Unlimited Number of Analysis Codes with Sub-Divisions
Five Codes for each Customer or Supplier
Five Codes for each Product and Transaction
Amount Calculation
Eight User Definable Calculation Stages on each Transaction
Based on Customer, Product or Quantity
Manages Currencies, Discounts, Surcharges and Tax
Override Available on Order or Invoice Entry
Powerful Reporting
Sales Analysis Report Writer
Order Status and Analysis Reports
Customer Listing
Sales Listing
Flexible Coding