The pace of current technological change may help today business enterprise, offering improved production processes and increasingly sophisticated machinery, however it also creates fresh demands on the software managing these new assets. Available either as a stand alone module or fully integrated with the rest of SunSystems, the Fixed Asset Register manages all assets regardless of their complexity.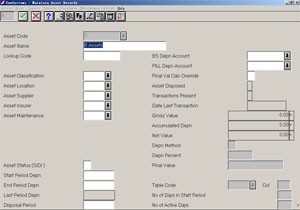 Flexible Depreciation
Depreciation techniques vary enormously depending on the type of company, what sort of assets it has and indeed on the country in which it is based. Ensuring effective control of a companies assets therefore requires software flexible enough to meet a range of diverse requirements with a single solution. SunSystems Asset Register provides up to ten different depreciation methods for each asset, each of which may be rule or table based and applied automatically or manually.
Asset Diary
Tracking the evolution of an asset through its life can be a major headache with enhancements, part disposals and divided locations all needing to be accounted for. SunSystems Asset Register features a unique Asset Diary system allowing clients to track every aspect, both monetary and otherwise, in the acquisition and life cycle of all capital assets.
Powerful Reporting
Most asset management systems are designed to provide the reports required to satisfy legal requirements. However, as a key element of the companies financial management system, these standard reports need to be supplemented by more flexible status and management reports. Through a range of both standard and customisable reports, combined with itslegendary analysis capability, SunSystems meets the most stringent requirements, even combining data from other modules in the system.
International
With depreciation methods varying from country to country, any organisation wishing to control and consolidate assets to reflect their international structure needs a flexible and fully multi currency asset register. With the addition of the multi currency module, SunSystems can value and depreciate assets separately in local and corporate currencies and as well as local and corporate depreciation methods, with separate book value and asset life.
Fixed Assets
Fully International
Two Currencies for Each Asset
Dual Currency Asset Value and Life
Depreciate Separately for Each Currency
Range of International Depreciation Methods
Adaptable Transaction Entry
Diary System for Enhancements, Disposals and Part Disposals
User Defined Transaction Types
On-line Ledger Update
Over Sixty Characters of Asset Coding
Flexible Budgeting
Up to Ten Budget Ledgers
Use for Budgeting or Forecasting and Taxation Values
Ledgers Depreciated by Different Methods
Flexible Budget Comparisons
Powerful Reporting
Asset Register
Status, Listing and Journal Reports
Full Audit Reports
SunAccount Report Writers Available to Combine Ledger Data
Flexible Depreciation